Dear friends of the Alcyone Circle,
First of all we wish you a Happy New year and a good sailing season 2018.
At the 10 th of December 2017 we've met snowbirds Brooke and Roberta Westover in their winter residence at Stuart/Florida. Brooke is 92 now and was very glad with the visit of old sailing friends from Holland. We brought him personally the book Alcyone Odyssee. Brooke was highly pleased and flabbergasted about the size, quality, clear main structure, quantity of photos and detailed information.
It touched me to found out what Cormorant Puffin means to him and Roberta after all that years they sailed with her.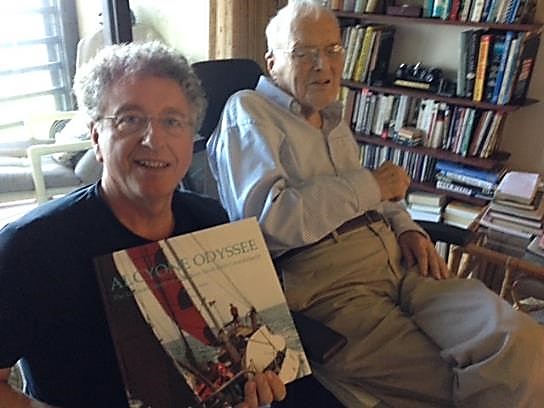 There will be no Wintermeeting, so sorry for that.
However the good news is we organize an Extraordinary Summermeeting this year because Alcyone I Caecilia will floating out in Drachten after 5 years of intensive restauration and renovation. With pleasure we invite all of you coming to Drachten with or without Gunning-yacht to celebrate that with bubbles and fine titbits.  Probably this will be combined with the finishing touch of Adriana van Texel, also laying in Drachten for almost 2 years. Peter Hoogenberk did a last big upkeep of maintenance at the old shipwarf of Haiko van der Werff.
Alcyone II of Casper Pronk is still in progress there at this moment.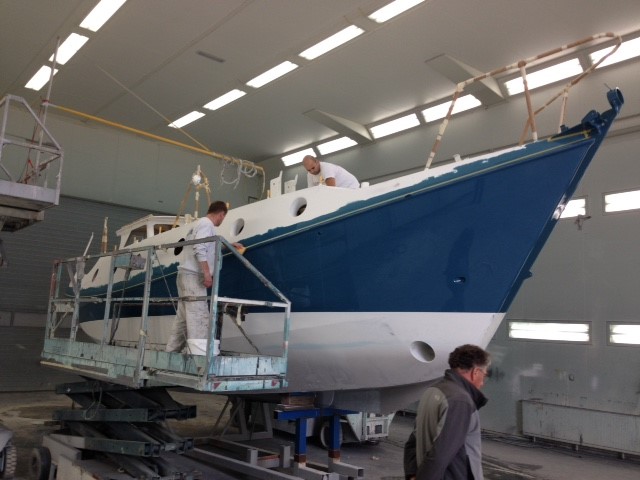 The exact date of Summermeeting 2018 shall be known and communicated as soon as possible. At this moment the ship carpenter is very busy with building up the interior: he just finished the guest and owners cabin. A lot of work because he has to renew all, there only is an insulated steel hull. It demands custom build thinking working without detailed carpenter drawings; that means continually searching for the best practical solutions to create the most space, comfort and usability in a typical small lined Gunning-yacht.
Kindest regards,
Arjen van Boekel & Joost van 't Hull,
Board Alcyone Circle