1. Confirmation Summermeeting 2017 at Hindeloopen
Rally take place in the weekend of 23th of June. We just blocked with our loved harbourmaster Onno Hoekstra the most beautiful spot nearby the old sluice for around 10 ships. Till now the following Gunning-yachts has signed in already: Zeekoet II, Sayonara, Vita Nova, Woest maar Kalm, Vrijheid, Vrouwezand, Eenhoorn and Cormoraan. If possible Harmonie joins the party and when Caecilia is ready then, she will be present also.
The program is as usual; sail in at Friday-eve or Saturday morning, palaver around 11.30 hours on board Sayonara, sailingcourse on IJsselmeer between 13.00 and 16.00 hours, Captainsdinner at 19.00 hours and leaving with a smile on Sundaymorning. Normality at Saturday eve between bubbels and mainmenu there will be a surpise for someone who did a great job for the Circle or had a exceptional performance that day: Joost and I will put our brains together to work it out at primetime: it could be you this time…
2. Plans Mediterranean through Belgium and France in 2019
Because the completely rebuild/renovation of Alcyone I 'Caecilia' (with true assistance of Bert Glazenburg) makes progress, we take dare making plans for sailing with our new Gunning-yacht in forthcoming future.
In the next months Ceacilia will get her International epoxyfillers and AWL-grip polyurethaan coating, so she will be conservated well for at least 10 years or more.
After that the electric system, insulation, build in of the new 65 hp diesel engine, carpentry and new sails will be carried out. Still a lot of work has to be done, but Cacilia developes steady on to her end state.
The finishing touch and maidentrip is scheduled somewhere in 2017.
Checking our memberlist more then 10 owners of Gunning-yachts are or will be retired within 3 years.
We have a dream once in a lifetime -as a pensionado with plenty of time- going South with our yacht in a slow and spacious way to coastal waters of France and Spain (as a stretchgoal to the Algarve in South Portugal), adventuring and enjoying the canal-route through Belgium and France with all his beauty of changing landscapes and lovely small villages and historical towns.
Our goal also is to take a pleasure in travelling along the canalroute and take our time at lovely spots on route visiting musea, resting and reading a good book, walking or biking around in nature, have a good glass of wine or beer on a terras somewhere and hopely tasting one of our favorites: French styled duck (canard).
All 225 sluices in canals/waters we have to take through France are calculated on the old cargo boats called 'Spitsen' with their max. length of 38.5 m., max. width of 5.2 m. and max. heigth of 3.4 m. That means with lowering the mast in a good way all Gunning-yachts can make this journey easily. Depth on the whole traject is not a problem at all because our flat bottom with lifting centreboard. The maincourse is La Meuze, Canal de l 'Est/Branche Nord and Sud, La petit Saône, Corre-Auxonne, La Saône, Le Rhône and Canal du Rhône to Sète.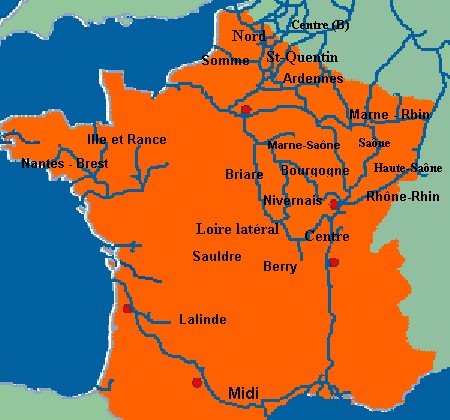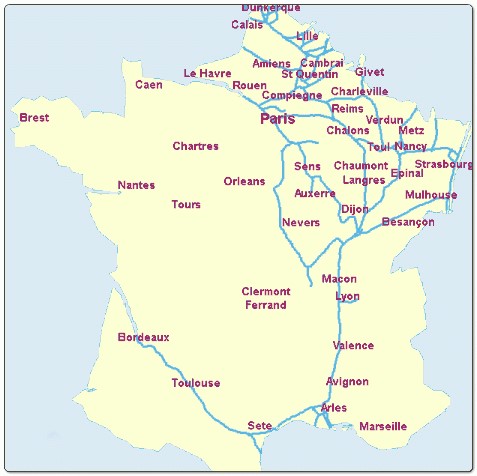 After that, reaching Sète in the south of France we could have a pitstop or continue our voyage for a long stay with fine coastal sailingtrips on Mediterranean from harbour to harbour wintering in one of the Costa's of Spain on better conditions then in Holland. Nowadays it's possible flying back to Holland for visiting home, family or friends for some weeks at lowest rates with Ryan Air or Transavia from different airports.
Till now Arjen & Rienkje, Klaus & Elgin and Marten & Mieke have spoken out the consideration to embrace the opportunity of such an adventure. But we think more members likes to accompany together on this great expedition.
To make such an interesting trip we need plenty of time: our goal is doing this in a relaxing and pleasant way. Travelling in a convoy with a few Gunning-yachts, there always will be a helping hand for by example the many locks we have to pass, some technical support and last but not least good company of friends during the trip. Such a great adventure needs a lot of preparation to do this in a right, comfortable and safe way. A lot of documentation and fine books are avialable with useful information and tips.
It would be great more members have the same dream and are enthousiastic about this plans. Perhaps with nice ideas about alternatives to discuss.
In that manner we could split the workload among participants and working out the plans in all kind of details: the needed ship/owner formalities voor Belgium, France and Spain, medical preparations/medicin supplies, all kind of maps we need, financial aspects (by example searching harbours with cheapest rates far away of superyachts and miljonairs), technical support at distance (by example Shipyard Haiko van der Werff),extra technical parts/maintenance issues as filters, oil and so on. The whole proces of preparation just can be anticipatory pleasure for everyone.
Please let us know if you would consider participation on this great tour through Europe.
Kindest regards,
Arjen van Boekel & Joost van 't Hull,
Board Alcyone Circle