In June 2017 David and I, Bert Glazenburg set out to sail Cormorant 'WoestmaarKalm' around Denmark. But we didn't know that when we started. We had two destinations in mind: Helgoland, to see the breeding birds on the cliff, and Fanö, the most Northern island in the Waddensea and the only Waddenisland we never visited. By visiting Fanö we would sail on the Danish Waddensea, which we also never did before. But these were just wishes and we knew that strong west wind could blow our plans to pieces. It did so before. This time though we had luck.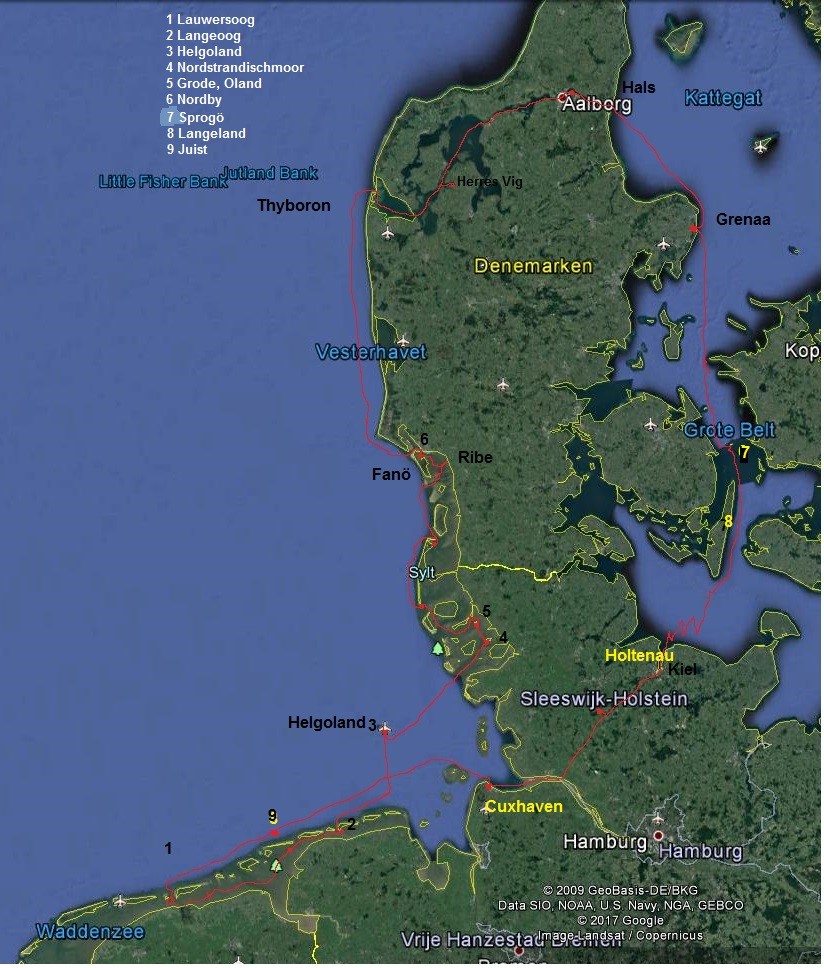 From Lauwersoog till Langeoog we were kept on the relatively safe Waddensea by a dense sea fog. In vertical direction it was just a thin layer so the sun gave it a silverwhite shine and there were shifts in thickness, so now and then we could see parts of the islands. I never experienced fog so mystic before. When we reached Langeoog the fog disappeared, or rather, on the islands was no fog, just around it. People were bathing in the sun with a dense fog just a 100 meters away.
The next day it was perfect weather to sail to Helgoland. So we crossed the shallow barrier between Baltrum and Langeoog just before low tide and sailed eastward with the flood till above Wangerooge, where we crossed the traffic lanes while we headed for Helgoland. This gives no problems: those cargoships are stronger and faster than WoestmaarKalm so we didn't try to pass them when they were nearby. Their crew is probably staring at a screen with AIS connected ships and doesn't even see us.
'Helgoland has a terrible harbour where you lay six in a row', people told us but we found plenty of room, directly at the jetty. And what a magnificent rock it is! A 60 m high cliff, at the west side full of breeding Gannets, Common murres (guillemot) and Razorbills. Some of them breed  so close to the footpath near the cliff that you could shake their wings (if they didn't have these sharp beaks). And at the east side of the island there is a beach you share with seals, which I also did not shake their flippers with (knowing how sharp their teeth are). I am not romantic enough for 'swimming with seals'. The most spectacular moment is at the end of June when the parent birds push their young off the cliff, starting their permanent life at sea till they become adult and will breed on the cliff themselves.
Close to the yacht harbour is cafe the Bontekoe (named after a German ship), which is a different Bontekoe to our Dutch hero. The life of this last one is much more interesting  and I recommend to read his life history (not the children's book 'De scheepsjongens van Bontekoe').
With fine weather we sailed to the Hever, southern entrance of the Northern Friesian Islands. Force 4 West is already not 'fine' in these waters. These islands are absolutely unique, because they are manmade. On small hills of clay and dung you find solitary, but also groups of farms just above sea level. Really the opposite of Helgoland.  Being unreachable by a keelboat they are rarely visited by sailing boats or any pleasure craft. Most have no other harbour than a small shallow stream running inland with a primitive landing at the end if they have a harbour at all.( Except Hooge, that is somewhat more sophisticated). We found many breeding birds here: Terns, Oystercatchers, gulls and the Common Ringed Plover. Unfortunately they connected some of the islands with the mainland and those islands now suffer from foxes coming over and eating all the eggs and young.
On Nordstrandischmoor we met Kjell, a 10  year old boy. He came racing towards us from the farm but got shy when he discovered that we were no Germans. I showed him the boat and he showed us all the nests and eggs he could find. He lives at the most western farm with parents, aunt, grandmother and great-grandmother. A fine young man. From there we sailed to Grőde, eastern entrance (difficult to find!). This is not officially marked anymore and the landings are old and rotten. So an adventure! And then across the sandbank straight to Oland, another Hallig. Here we met a biology student that marked the nests she found with a stick. No problem for a smart fox to find those! She noticed that every morning all the eggs were gone. Small wonder.
A nice scenery is also the passage between Amrum and Föhr.  From Rantum on Sylt we sailed around that island on a beautiful sunny day, and anchored in a bay at the northern end.
Next was Denmark, new territory. It made us a bit nervous. A dangerous lee shore in strong winds. We passed the Islands Rømø and Mandø and were somewhat in doubt about the accessibility of the most southern entrance under Fanø that goes from southwest to northeast, although our chart and Navionics showed buoys here. It was because we saw at the chart a shallow barrier at the end. It could be rough there. Lucky we didn't go there:  There weren't any buoys as we saw later. We took the west-east going entrance and even there were hardly any buoys so we felt as lost and lonely as the buoys themselves. But we got to the entrance to Sønderho and waited there for high tide. Nobody anywhere to be seen. No other boats. Just sandbanks.
At high tide we tried to reach a wooden stick assuming that shows the way to Sønderho but we ran into the sands at every attempt so we gave it up and sailed to the sluice near Ribe where we fastened the boat at a mooring. This sluice showed no VHF or telephone number and we concluded that the Waddensea was the stepdaughter of naval Danish concerns. So we dropped our plan to visit Ribe, the oldest and one of the most beautiful towns of Denmark. Between us and Esbjerg there were more sandbanks, of which of none of them the height was given, so we stayed in the buoyed channel. And there was a high-voltage line with a given height of 6m. But we had heard it was surely higher. We tried, almost sure it was high enough. And it proved to be higher than 12 m because we were not electrocuted.
Nordby on Fanø has a nice small harbour and is a beautiful village, as well as Sønderho. We made long walks through the dunes and along the beach, waiting for good weather. Especially in the marshes and dunes at the northwest end we found a richness of rare salt tolerant plants and birds.  The Marsh harrier flying around us all the time.
Because of all the depressions the wind kept coming from the west, mostly SW. This was blocking our way back home to the Netherlands across the Northsea. So we decided to sail on and turn back via the Baltic sea. After 4 days we left Nordby to use the calm between two depressions.
The water between Fanø and Horns Rev is a mess and we used the motor to get through it, but later, straight north till Thyborøn, we had a moderate southwest wind with reasonable waves. We sailed through the night and reached Thyborøn in the morning in an already stronger getting wind, announcing the next depression. Rolling on the waves we entered the Thyborøn canal which has a wide and deep entrance. Some Dane told us he always sailed straight across the shallows behind Thyborøn so we tried that. Ran aground three times! We kept sailing into the Limfjord till evening. After 36 hours we anchored at a beautiful spot called Herres Vig. Next day we anchored east of Aalborg, having outsailed a big Dutch Colin-Archer yacht.
The joy of sailing won from visiting all  the nice places in the Limfjord. And moreover, we were trying to be back in time for the summer meeting in Hindelopen. And the wind, the wind, the forecast was good. 'Use it or loose it.' So we raced past Hals in a stronger getting wind. 6 to 7 was the forecast. We reefed the mainsail two times and the jib and even then we had almost too much sail up. But we could head straight for Grenaa, halfway Jutland. So we kept going, accepting seawater was constantly spraying the boat, giving the man at the helm a fresh shower now and then.
That man was my mate. He got seasick inside so it became my task to produce tea, coffee, bread and soup. Not easy in a heavily moving interior, but I managed it. Only one wave hit us straight at the side, tumbling on us and pressing the leeside down. When we raised again the cockpit was for a moment filled with water. Apart from this moment steering into the waves or away with the waves was not necessary and that was important because we wanted to reach Grenaa before darkness. In Grenaa we went to the restaurant where we met other sailors. Not difficult to notice that they had had rough times too: red bewildered faces with uncombed hair, one dressed in an old legging, another in pyjamas. Three older men entered: uncombed grey beards and one on bare feet with blue/red/green toes with another dressed in jeans clearly not his own. The zipper wide open. That my pants were wet and it looked like I pissed in it was not  noticed, or accepted. The servants smiled and served as if there was nothing the matter. Maybe they knew under such circumstances we didn't look at the cost of the meal.
Anyway, after 24 hours of strong NW wind, including a long night sailing over the 'Store Belt', in sheltered waters under the lee of the island Langeland, and a lot of tagging during the last part we reached Holtenau, the east-entrance of the Kieler canal. In the sluice we lay between a very large luxury yacht, with a bored looking crew, and a small old 'ugly duck' with a very proud owner, showing happiness. It was the second time that we made a stop halfway at the entrance of the Giselau canal, close to the Eider-sluice. And again this place had this serene atmosphere. It only got disturbed by our fishing rod in the middle of the night. There was a big fish pulling at it and David and I, already asleep, stumbled into the cockpit and tried to get this enormous eel aboard but unfortunately it fell off the hook back into the water. Fun moment though.
As predicted on the Elbe the weather changed suddenly from calm and sunny into rough and rainy and with a strong west wind we entered Cuxhaven. We stayed here three days, waiting for good weather. Of course one day extra for the waves to calm down. The harbour area is an interesting mix of old shabby and renewed buildings, pavements and quays, with watersport shops and restaurants. Also there is a marine museum,  but it is not so spectacular as the announcements promise.
I don't treat David as a helping hand but as an equal partner in planning and handling the boat. That makes it more interesting for him to sail with me and makes him more responsible for what he is deciding and doing. This way the boat gets a better crew. But in Cuxhaven this conflicted with my end-responsibility as the owner. Having enjoyed the waves on the Baltic, he wanted to go on sailing out of the Elbe in a SW 6. I had to refuse that, I decided. So when we finally left Cuxhaven in a very soft wind and David wanted to raise the sail I didn't  argue but helped him. But , by tagging in a force 2, it took us many hours to pass the islands Neuwerk and Scharhorn. Finally I convinced him that if we went going on with this speed we would end up in Cuxhaven again after the floodstream started running. So we started the motor and later, because the wind died completely, took away the sails. On a completely flat Northsea surface we passed the Friesian islands. And above Juist, at 1 o'clock in the night we anchored at 10m depth.
During the time the tide was running in the wrong direction we were sound asleep. The next day we reached Lauwersoog, with a bucket full of mackerel which we had caught near Borkum. You can catch them with a speed up to 5 knots, but they are only available when you see birds gathering on the water. This time we saw seagulls, terns and cormorants at the same spot. They try to catch the small fish that flee to the surface while hunted by mackerel. At 50 fishes we stopped because of the limited space in my freezer. After gutting the fish the boat looked as if I had slaughtered a horse.
At Lauwersoog I got a fine welcome from Janneke my wife, put the fish in the freezer, said farewell to David and sailed alone to Hindelopen. After all the salt seawater the IJsselmeer was a fun trip with soft  sweet water spraying in my face. Unfortunately Janneke did not recover from her illness in time to visit the reunion, but again the meeting was so lively that I hardly had time to miss her. I went home through Friesland, over the canals and lakes, passed many many bridges and noticed again the beauty of this district. And finally, for the second time coming home, the beauty of my wife.